Husk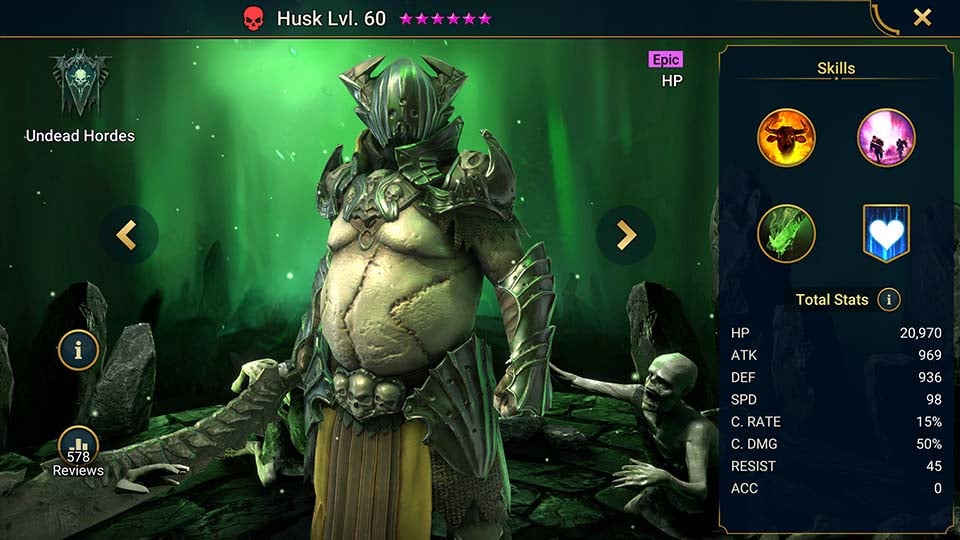 Champion Overall Rating:

3.5
Kuldath God
Key Areas
| | |
| --- | --- |
| Arena Def: | 7 |
| Arena Atk: | 7 |
| Clan Boss: | 4 |
| Doom Tower Waves: | 7 |
Dungeons
| | |
| --- | --- |
| Spider: | 9 |
| Fire Knight: | 7 |
| Dragon: | 8 |
| Ice Golem: | 8 |
| | |
| --- | --- |
| Magma Dragon: | 10 |
| Frost Spider: | 9 |
| Nether Spider: | 8 |
| Scarab King: | 3 |
| | |
| --- | --- |
| Eternal Dragon: | 6 |
| Celestial Griffin: | 6 |
| Dreadhorn: | 6 |
| Dark Fae: | 6 |
Husk
Husk is a Force affinity epic champion from the Undead Hordes faction. Husk has an AOE Stun ability which also hits for enemy MAX HP making him both a really hard-hitting champion for boss fights as well as a good control champion. As a Force affinity champion, he becomes the only champion with that skill capable of maximum damage for Magic affinity and neutral for Force affinity. The best use for Husk is to help you through Spider 19 which a lot of people find extremely challenging.
Husk has a slightly lower damage multiplier compared to Royal Guard however he is a fantastic alternative. Make sure you build Husk with 100% crit rate, high speed, accuracy, and then maximum crit damage.
Husk is very useful against Kuldath in Doom Tower with an enemy max HP damage hit and an A1 provoke!
Husk is one of the most underrated epics in the game, do not sleep on this champion!
Burning Iron [ATK]
Attacks 1 enemy 2 times. Has a 20% chance of placing a Provoke debuff for 1 turn.
Level 2: Damage +5%
Level 3: Buff/Debuff Chance +5%
Level 4: Buff/Debuff Chance +5%
Level 5: Damage +5%
Level 6: Buff/Debuff Chance +10%
Damage Rating
Multiplier: 2.8*ATKOverall Grading*: Strong
Despair [Enemy MAX HP] - 5 Turn Cooldown
Attacks all enemies. Has a 35% chance of placing a Stun debuff for 1 turn. Damage inflicted isproportional to enemy MAX HP.
Level 2: Damage +5%
Level 3: Buff/Debuff Chance +5%
Level 3: Buff/Debuff Chance +10%
Level 3: Buff/Debuff Chance +10%
Level 6: Cooldown -1
Damage Rating
Multiplier: 0.1*TRG_HPOverall Grading*: Godlike
Retaliate Current [HP] - 4 Turn Cooldown
Attacks 1 enemy. Damage Increases according to this Champion's current HP.
Attacks 1 enemy.
Level 2: Damage +10%
Level 3: Damage +10%
Level 4: Cooldown -1
Damage Rating
Multiplier: 0.33*HPOverall Grading*: Average
(Aura)
Increases Ally HP in the Arena by 30%
Offense
Defense
Support
This champion is not recommended for use in PvP
ACC, SPD, C.RATE, C.DMG, HP%
Recommended PVE Artifact Sets
Speed, Accuracy, Perception, Immortal
ACC, SPD, C.RATE, C.DMG, HP%
Recommended PVP Artifact Sets
Speed, Accuracy, Perception, Immortal