Broodlord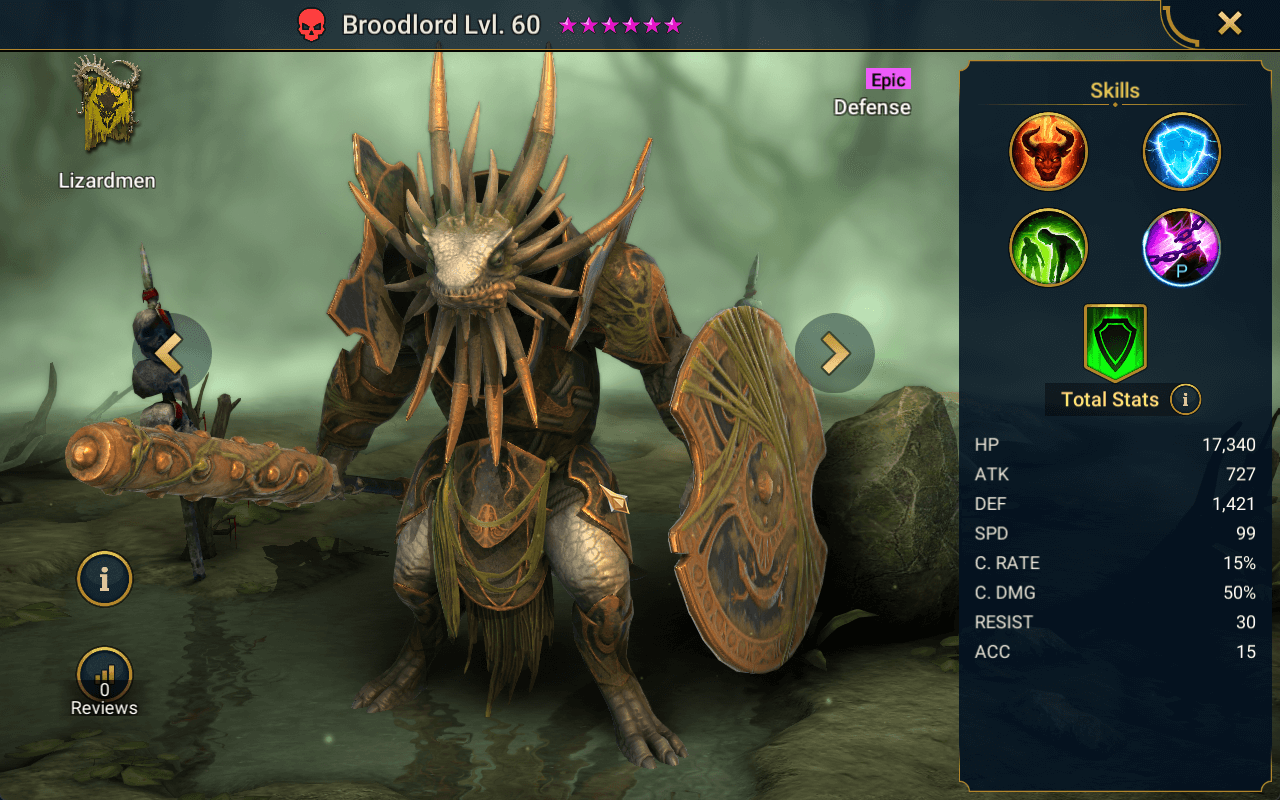 Champion Overall Rating:

2.5
Key Areas
| | |
| --- | --- |
| Arena Def: | 3 |
| Arena Atk: | 3 |
| Clan Boss: | 3 |
| Doom Tower Waves: | 6 |
Dungeons
| | |
| --- | --- |
| Spider: | 7 |
| Fire Knight: | 6 |
| Dragon: | 3 |
| Ice Golem: | 5 |
Faction Wars
Damage:
Crowd Control:
Protection and Support:
| | |
| --- | --- |
| Magma Dragon: | 2 |
| Frost Spider: | 4 |
| Nether Spider: | 5 |
| Scarab King: | 5 |
| | |
| --- | --- |
| Eternal Dragon: | 2 |
| Celestial Griffin: | 5 |
| Dreadhorn: | 4 |
| Dark Fae: | 2 |
Broodlord
You won't hatch any plans to steal the Broodlord's eggs on his watch! He joins the lizardmen as part of the 2021 Christmas Fusion Event.
He has been designed as a reactionary defender, focussed on protecting 1 ally and slowing enemies when they attack him or his ally. He has the possibility of placing a Provoke on an A1 and on each hit giving you 50% chance per hit when booked. It does however require a Decrease Speed debuff to be on the enemy. In Addition, he brings an 85% chance to place a Stun debuff on enemies as an AoE if they are under Decrease Speed.
You're noticing the trend here – luckily Broodlord does have an ability to place the Decrease Speed passively when he or his protected Ally is attacked. It is however quite unreliable so to get the best out of Broodlord, I suggest you bring another decrease speed champion such as Psylar or Mother Cybele to activate his kit.
His single target Ally Protect may seem useless however you might find some use by having a High Resistance target against the Head of Mischief in the Hydra Clan Boss where the target with most buffs is attacked.
Patient Tactician
Attacks 1 enemy 2 times. Each hit has a 30% chance of placing a [Provoke] debuff for 1 turn if the target is under a [Decrease SPD] debuff.
Level 2: Damage +5%
Level 3: Buff/Debuff Chance +5%
Level 4: Damage +5%
Level 5: Buff/Debuff Chance +5%
Level 6: Buff/Debuff Chance +10%
Damage Rating
Multiplier: 1.6*DEFOverall Grading*: Average
Defend the Nest - 5 Turn Cooldown
Places a 50% Ally Protection buff on an ally for 2 turns, then a [Block Debuffs] buff on that ally for 1 turn.
Also places a [Shield] buff on this champion for 2 turns equal to 20% of this champion's MAX HP.
Level 2: Cooldown -1
Level 3: Cooldown -1
Primal Tremor - 4 Turn Cooldown
Attacks all enemies. Has a 40% chance of placing a [Stun] Debuff for 1 turn. The chance increases to 75% against enemies under [Decrease SPD] debuffs.
Level 2: Damage +5%
Level 3: Buff/Debuff chance +5%
Level 4: Damage +5%
Level 5: Buff/Debuff chance +5%
Level 6: Cooldown -1
Damage Rating
Multiplier: 3.8*DEFOverall Grading*: Strong
Eggwatcher [P]
Whenever this champion is attacked or whenever allies under [Ally Protect] buffs are attacked, has a 30% chance of placing a 30% [Decrease SPD] debuff on the attacker for 2 turns.
Level 2: Buff/Debuff chance +5%
Level 3: Buff/Debuff chance +5%
Level 4: Buff/Debuff chance +5%
Aura
Increases Ally DEF in all battles by 25%
Offense
Defense
Support
This champion is not recommended for use in PvP
Recommended PVE Artifact Sets
Guardian, Speed, Perception
Recommended PVP Artifact Sets